What is an IT Service Management Tool?
IT Service Management (ITSM) tools are for many organizations the lifeblood of the help desk and possibly the entire IT department. Some would argue these tools are the lifeblood of the entire organization, as well. Many IT departments live and die by their IT Service Management tools, using them to track everything from support tickets to change control requests, provisioning and de-provisioning of resources and more. When an ITSM tool is well deployed and well integrated, it can make the entire organization flow more smoothly.
Gartner defines ITSM as tools that "facilitate the tasks and workflows associated with the management and delivery of quality IT services." Basically, an ITSM tool can and is used by the IT department (as well as other departments depending on the situations) to track requests. Some examples include:
An existing staff member needs new software installed on their endpoint to support new job functions
A new employee is starting and needs all the normal things (e-mail, VPN, cloud accounts, etc.) provisioned for them
A retiring employee needs their company equipment returned as well as account access disabled when they leave
A new SaaS tool is being brought online and needs to be connected to the appropriate internal systems
The organization is changing SSO providers and data needs to be provisioned on the new provider.
These are just a few examples of things organizations can and do with ITSM tools. Basically, they can be used to track and manage the status of pretty much any request or workflow within an organization (and often between organizations).
The Value of IT Service Management Tools
As a standalone system, ITSM tools provide significant value to an organization. Just being able to track the status of requests in a central repository is hugely valuable. And most ITSM systems take things much further than that. They support specific workflows:
When an engineer puts in a request of type A, ITSM routes it to manager B for approval, then manager C if approved or manager D if denied

If approved, the ITSM then sends an alert to another engineer to implement things – or possibly kicks off automation to implement things automatically –  tracks progress, accountability (since every step is tracked and logged), and things like that
Why Integrate ITIM and ITSM Tools
So, that's a brief overview of what an ITSM tool is and what they are used for. While the value they bring to organizations is significant, much more is possible. Now let's talk about the value of integrating your ITIM tool with your ITSM tool.
An ITSM can be made even better by performing a basic integration between your various tools. If you tie monitoring into ITSM, it can generate tickets when incidents occur in your environment and drastically improve MTTR. For example, when a network switch becomes unresponsive, you no longer have to wait for someone to notice, access the resource and report it to the ITSM manually.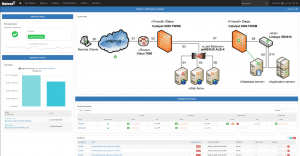 Basic integrations between ITSM and other tools can take many forms. It may be as simple as using a webhook so your ITIM tool passes general information to the ITSM. Perhaps sending the date/time of the incident, systems involved, basic description of the error. The ITSM then figures out who should be alerted or what workflow the alert falls into, alerts the appropriate people or runs the appropriate workflow.
That is all great, but what if we could take things one step further? What if instead of just passing basic information from my ITIM to my ITSM tool, I could get information back? And what if those communications were extensive and bi-directional, allowing the ITIM tool to consume information from the ITSM as well as interact directly with the ITSM to improve productivity and performance (and, if all goes well, customer satisfaction)?
What Do I Get From Integrating My ITIM and ITSM Tools?
In this kind of scenario, there are all sorts of really cool things that can happen. Some examples include (specific functionality may vary depending on the ITSM you are using):
Your ITIM tool can learn about new and removed devices, subnets, offices/sites and more from the ITSM's CMDB
Automatically create events in the ITSM when new incidents are identified. Of course, in this case you want to make sure the tool creating these new tickets has an extensive incident management system of its own. Then you don't have to deal with excess tickets being created for systems that are not really experiencing an issue
Ensure tickets being created are routed to the correct places via ITSM workflows that assign appropriate resources, etc. depending on the information in the ticket
Automatically create a maintenance window in your ITSM when a window is created in your ITIM tool. This improves a number of processes including:

Instead of having to create maintenance windows in two separate areas (and potentially introduce human error into the process), a single window is created (and if you are using Netreo's incident management the window can be easily created based on specific devices, incidents, and other criteria)
Changes in the maintenance window can be automagically reflected. If you extend the window in one system, it can be extended in the other system without requiring human intervention
No need to manually alert people that a maintenance window is being created – the ITSM can manage alerts via workflows
Ensure everyone is aware of the necessary windows and minimize confusion, since maintenance windows are consistent across platforms
That's a Wrap
Each of these items (and the many more) can help increase productivity, improve efficiency and minimize system downtime with the ultimate goal of improving the overall performance of the organization. When looking for ITIM solutions, make sure to look for tools providing the most robust ITSM integrations, such as Netreo. This way, you can be sure you are getting the most out of your ITIM tool. Better still, schedule a demo of Netreo and see for yourself how well Netreo integrates with your chosen ITSM tool.