Automation is key to getting the most from the Netreo Platform. It is also a significant reason why Netreo delivers the fastest time-to-value among IT infrastructure management solutions. Automating administrative tasks reduces admin burden, improves data integrity and infrastructure lifecycle management. This allows you and your IT team to focus on more strategic business initiatives. "How To Create Device Templates" equips you to leverage standardized templates to automate configuration changes to devices with similar attributes. It's also a perfect segue from our inaugural How To post on pushing device configuration changes.
Creating Device Templates in Netreo
To create new device templates in Netreo, select Administration > Templates from the main menu to navigate to the Device Templates Administration page.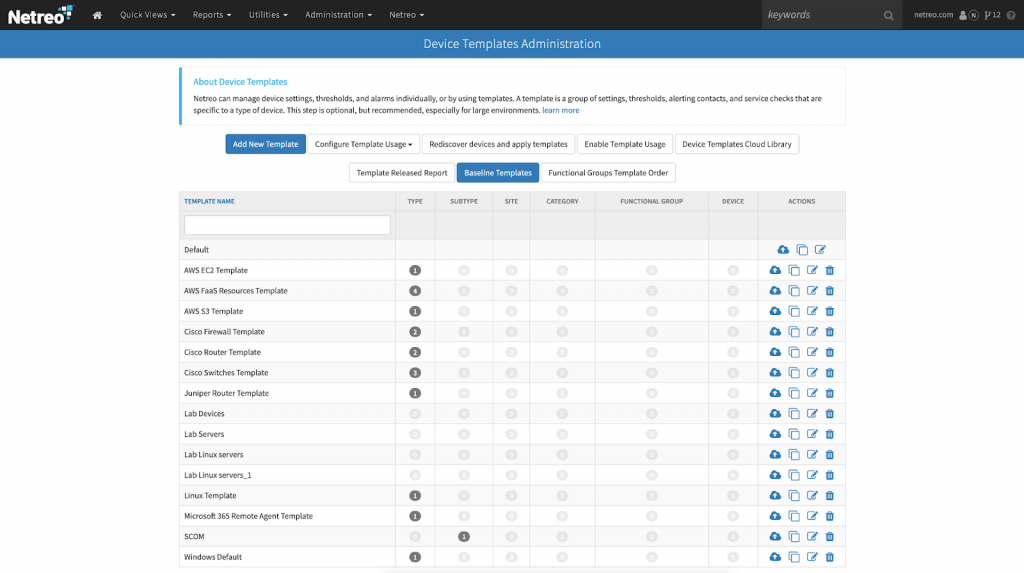 Click the Add New Template button at the top of the page to open the new device template dialog.
In the dialog that appears, do the following:
Steps to Create Device Templates
In the TEMPLATE NAME field, enter a unique name for your new device template.
Enter authentication credentials applicable to all devices you will apply this template to.

If using SNMP credentials, in the SNMP VERSION field, select the SNMP version Netreo should switch to when authenticating any devices affected by this template. ("No Change" means Netreo will continue using whatever version it was already using to access the respective device before this template was applied.)

In the AUTOMATICALLY DISABLE DEVICE field, enter the number of hours a host device affected by this template will be allowed to be "down" before Netreo disables (and stops polling) it. A device disabled this way will be periodically pinged. If it comes back "up" it will be automatically re-added to Netreo and polling will resume. All previously stored data for the device will remain intact.
In the RENOTIFY INTERVAL field, enter the number of minutes Netreo will wait since last running action groups (for the current alarm) before running them again (actions typically include sending alert notifications). This basically means, "How long should Netreo wait after initially sending alert notifications before sending them again, if no one acknowledges the alarm?" (This setting applies only to host-down alarms. Other types of checks have their own settings for this functionality.)
Set the ENABLE AUTO AUTHENTICATION switch to the desired setting. (Setting this to ON allows Netreo to reference the credentials in this device template whenever it attempts to automatically add newly discovered devices. Setting it to OFF will prevent Netreo from using these credentials for that purpose.)
In the AUTO CONFIGURATION field, select the desired action for autoconfiguration rules when devices affected by this template are repolled. (Selecting "No Change" means that any autoconfiguration rules contained in this template are applied only once, when a device is first polled after having this template applied to it. But, never again after that.)
Select Save.
After You Create Your Device Templates
After you create your device templates the "Template Components" panel will now be available. You can leave your new template as it is (if, for example, you only plan to use this template to hold authentication credentials for Netreo to use when auto-discovering new devices), or continue and select from a variety of components to add functionality to your device template. If you don't plan on adding any components, you're finished.
Click the links below to learn how to add components to your device template.
Your new device template is now ready to be assigned to a device type, subtype, category, site or individual device. Additional components can always be added later, if desired. If you do add additional components after your device template has been assigned to any devices, remember to reapply your device templates.
To see how templates power the Netreo Platform to deliver maximum value as your ITIM solution of choice, Request a Demo Today!