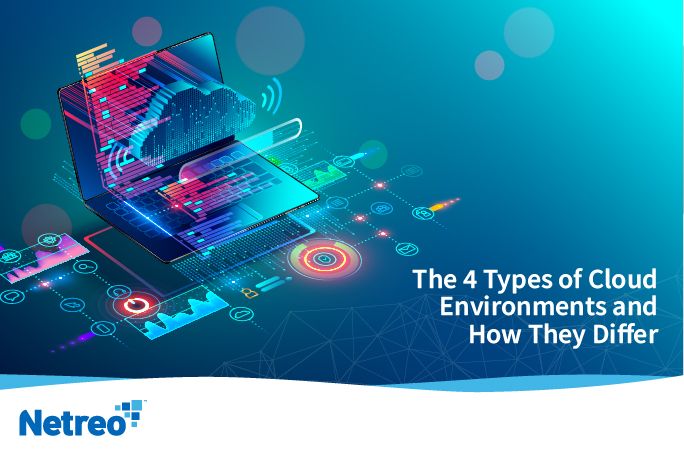 Up to 90% of businesses are now using cloud computing to some extent. These companies are also conducting up to 60% of their work via the cloud. This data clearly shows us that cloud environments are, at last, in the mainstream.
However, there is still some confusion over the different types of cloud environment. While it is easy to assume that one cloud 'fits all,' different types serve differing purposes.
Let's look at the four types of cloud environments and what you can expect from them.
The Different Types of Cloud Environments
1. Private Cloud Environments
The private cloud, as you may imagine, is yours alone. That means only you and your team have access to this space and its files.
This may appeal to businesses who are keen to exercise complete control. In some cases, it may also mean that you benefit from tighter security.
However, private cloud computing is normally manageable through the user. This means that anyone working with a private system should, hopefully, have the requisite knowledge of how to use it.
It may also mean that users need to handle all maintenance themselves. That could mean higher human error risks.
2. Public Clouds
Public cloud deployment is perhaps the most common environment available. It will be worth more than $623 billion by the middle of the decade. Around 91% of corporate cloud users run through public environments. Conversely, 72% use private, showing a preference for mixing.
The public cloud environment is generally available through an outsourced subscription. That means businesses essentially delegate its operation to an off-site expert. This means that there is no need to pay for hardware running costs on-site.
However, by design, the public cloud platform is a shared environment, which means that a business choosing a public setup will share services with others.
Public and private cloud services tend to be some of the most popular. However, there are a handful of additional options.
3. Hybrid Clouds
A hybrid cloud environment brings together features from public and private clouds. The benefit is that users can expect 'the best of both worlds.'
In some cases, it may mean that businesses can pick and choose which data they manage. For example, it may mean that the public side of the cloud handles the simpler processes.
The hybrid cloud may be popular for smaller companies because they can take advantage of the public cost-saving and maintenance support. At the same time, they will be able to protect sensitive data through the platform's private end.
The statistic showing a split between public and private cloud use might point to hybrid usage. With hybrid, business owners are concerned that the public cloud provides less security than the private system can rest easy.
4. Community Clouds
The community cloud infrastructure is interested in that it's another mid-point between private and public. At its simplest, the community cloud is a series of public clouds arranged in a private 'community.' That means separate businesses will still benefit from the positives of a shared platform while still keeping data secure and confidential.
Community cloud take-up is growing, too. Between 2013 and 2018, the model saw a growth of 34.5% worldwide. As of 2018, the community market was worth at least $2.49 billion.
This multi-tenant model may work well with businesses with shared industry interests. It may also benefit those who are not necessarily competitive. For example, you may find community cloud environments popular in healthcare and public services.
Which Cloud Environment is Best For You?
All the types of cloud we explore here have their pros and cons. Public cloud services are easy to manage and are cost-effective. Private clouds, however, offer more privacy and security.
Hybrid clouds let you secure sensitive data as and when you wish. Community clouds, on the other hand, allow you to join a group of private users.
There appears to be a healthy interest in all four deployment models. However, the right system for you will depend on the data you hold and the type of business you run. Don't forget; there are also multi-cloud environment models too. They are where you can choose multiple options to fit your enterprise the best.
No matter what type of cloud environment you choose, Netreo can help you easily monitor your cloud resources to ensure optimal performance and cost-effectiveness. Request a Demo Today!