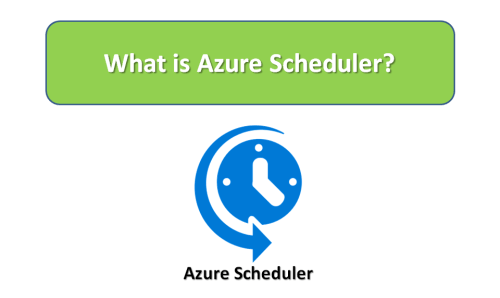 What is Azure Scheduler?
It is a cloud-based service that allows a user to schedule one time or ongoing system processes. Azure Scheduler performs scheduled system actions such as posting message into storage queue, executing jobs in the cloud on a customizable recurring schedule. Scheduled jobs could be related to the services provided by Microsoft Azure platform or be external to it.
 
What can Azure Scheduler be used for?
Create Schedule Jobs / Processes – Create and schedule recurring jobs that works on nodes internal and external to Azure Cloud Platform.
Reliable Scheduling Service – Azure Scheduler provides a reliable and uninterrupted scheduling service as it continues to work even if there is problem with the network or a breakdown in the server. It runs the job at the which is scheduled by switching to an alternate endpoint in the same region.
Scheduled Maintenance – It provides a simple mechanism for maintaining systems health by periodically cleaning up logs, undergoing routine backups and other application / service /server /database maintenance tasks.
How can Netreo help?
Netreo monitors Azure Scheduler service and provides valuable information to cloud administrators
Tracks and visualizes scheduled jobs
Alerts when scheduled jobs fail
Allows Netreo users to receive notifications of scheduled job failure via email, SMS, Slack, Hipchat, PagerDuty and other popular notification services
Find Out how Netreo can help you with all your monitoring needs. Request a Demo Today!