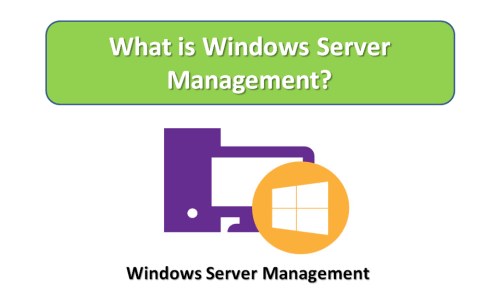 Windows Server Management is referred to the process of managing and monitoring Windows Server hosted on Azure, on premises or on a third party cloud platform.  It ensures that Windows Servers operate and perform within required performance criteria and thresholds. Windows Server Management may include server configuration, defining server roles, allocating storage, creating Active Directory and Group Policy, enabling services ( file, print, web services and remote access,) virtualization, creating application servers, troubleshooting, performance, and reliability.
How is Windows Server Management used?
Windows Server Management is mainly used to provide control and monitoring over a Windows Server deployed within or external to the organization. Windows Server Management helps in;
Monitoring and ensuring uptime on the server
Monitoring performance statistics to analyze current and expected load
Optimize server operational characteristics to improve performance and reliability
Create and manage Windows Server features ( Active Directory, Virtualization, IIS, Policies)
Implement procedures to auto recover a Windows Server from crash's and downtimes.
How can Netreo helps in Windows Server Management?
Netreo can help monitor, manage and automatically correct issues for Windows Servers deployed in any environment through its self-updating agent software.  With Netreo's Windows Server Monitoring Software capabilities, users can easily start getting deep insight into server farms with custom monitoring features and automation for a wide variety of resources, functions and processes.
All-in-one Dashboards – Visualize all servers and resources on unified and customizable dashboards
Crash Recovery –  Netreo provides auto restart of crashed processes.
Recycle Application Pools – Improve system stability and reliability. Netreo auto detects and trigger recycling of app pools when IIS web applications misbehave.
Handle Memory Leaks – Ensure there are enough resources available for your most important processes. Automatically restart your memory hungry processes or reboot your whole system when free memory is low.
Windows Server Monitoring – Track key performance indicators, receive alert on critical information from Windows Event logs and monitor Windows Services and Scheduled Tasks.
Windows Server Automation –  Netreo's automation features for Windows Servers allow in setting up pre-programmed activities that are always at work to keep your systems at optimal levels. With Windows Server Automation, Windows Server Managers can execute Powershell commands, restart failed processes and clean temporary storage.
Find Out how Netreo can help you with all your monitoring needs. Request a Demo Today!