Microsoft Video Indexer has introduced a new capability known as Brand Detection from visual and text as well as speech. 
If you want to get insights into the names of different products and organizations having brand detection in Video Indexer is the right solution. Typically, it allows you to search the large content of audio as well as video. Mostly the customers find Brand Detection quite beneficial in business situations for tasks like content archiving, social media analysis, contextual advertising etc.
A new brand discovery approach
Here is a small example to provide a better explanation. In the Microsoft Build 2017 Day 2 presentation in this example, the brand "Microsoft Windows" has been seen numerous times. Either in transcription or visual text, it never showed as verbatim. Video Indexer spots with a high precision that the term in the context is definitely brand based. The best thing is that covers more than 90,000 brands out of the box and is being continuously updated.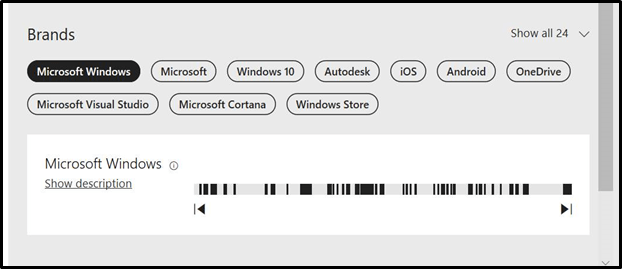 If we talk about the windows in the context, the word "Windows" will not be detected, and same for Box, Apple, Fox, etc., based on advanced Machine Learning algorithms that know how to disambiguate from context. Brand Detection works for all the supported languages. 
Bring your own brands
The mining algorithms are already in place and are updated regularly. It is also possible to customize brands like for example adding up or omitting brands from the catalog. The screenshot attached below displays the brand customization screen. It can be accessed via the customization button located on the upper-right corner of the VI portal home page. Let us add 'Mod Pizza' as a brand to be included.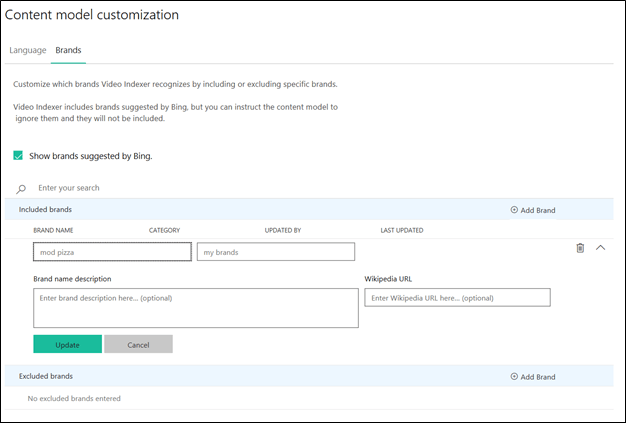 The indexing gives the following results after adding the new custom brand: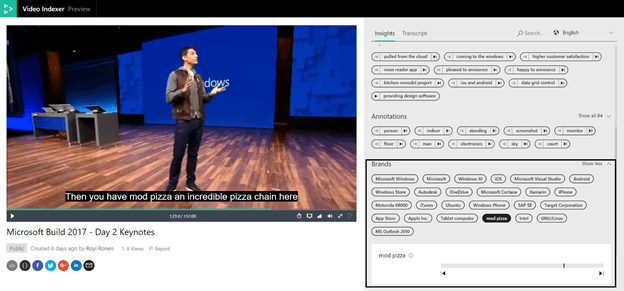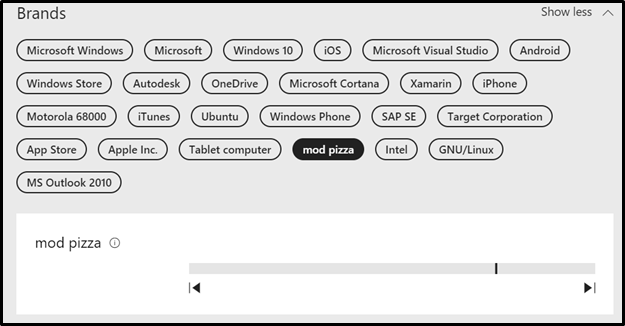 How to Handle the Brand Customization API
In the API Partner Customization Brands Web API one can easily modify the brand detection. It is possible to allow and disallow the recognition of out of the box brands, along with adding own custom brands for VI to detect or ignore.
To add your own brand for detection or filtering, all you need is the brand name. It is recommended to add its Wikipedia page as well if possible for improved results. You can also specify to which categories the brand belongs. From that moment forward, every video that is indexed will account for your customization.
Conclusion
Brand Detection is a new capability in Video Indexer, enabling indexing brand mentions in speech and visual text, based on a large built-in brands catalog as well as custom brands. Brands are disambiguated from other terms using context.
Check out the API documentation for more details on how to use brand detection in Video Indexer.