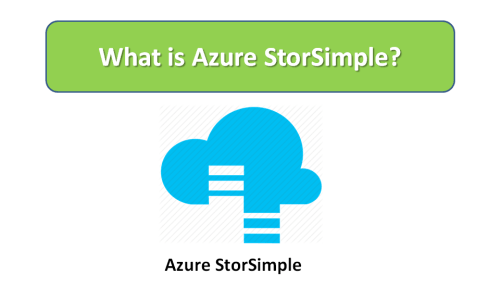 StorSimple is a hybrid cloud storage solution by Microsoft Azure, which provides a cloud-based storage infrastructure used for storing, accessing and managing large quantities of data.
Azure StorSimple is considered a hybrid cloud storage solution because it combines primary, backup, snapshot, archive and offsite storage solution into one cohesive solution. StorSimple is delivered through SSD and HDD based storage arrays that provide better performance and IOPS than tape storage.
How Azure StorSimple is used?
It is used to provide data storage and backup solution for both cloud and on-premises IT Infrastructure.  It is primarily used to provide storage resources for:
Backing up or offloading inactive or infrequently used data
All in one / central location for storing primary, backup, archive, and offsite data
Providing snapshots, volumes, or data to virtual machines for development, testing, or disaster recovery
Azure StorSimple also provides a StorSimple virtual appliance that enables in automatically creating and deploying Azure virtual machine using virtual machines snapshots or preconfigured and stored volumes.
Azure StorSimple uses inline data deduplication and compression techniques to reduce inflexible storage growth and an SSD (solid-state drives) based storage infrastructure for lowering storage input/output costs. It can be managed and controlled from Azure Management Portal.
Netreo can help you with all your Azure monitoring needs. Request a Demo!