The survey reports made from the complaints of the customers confirm that Distributed Denial of Service is of the major security concerns of the customers. Customers meet the issues and attacks when they move their applications to the cloud. Within a year, the complaints and concerns grew up to 380% and even the popular websites were interrupted by the Distributed Denial of Service attacks. To cope up with these issues, Azure DDoS Protection Standards are available which help the users to enable specific tuning, telemetry, and alerting features. The below-mentioned image shows the Azure DDoS Protection Service offerings.
What is Azure DDoS Protection Basic Service?
Azure DDoS protection basic is available by default and the users don't have to pay for it. However, the full-scale capacity of Azure offers complete protection against common network layer through the traffic monitoring and real-time mitigation. Azure DDoS protection standard offers advanced and additional protection service and it's tuned to protect the user's specific resources. There is application of resource changes are required for the existing Visual Network as it's dedicated to configuring DDoS protection policies to your Virtual Network. Moreover, you can get additional Protection Standards features which help you to view through Azure Monitor when the application is in a vulnerable state.
Exclusive Features of Azure DDoS Protection
Native Platform Integration enables the Azure Portal and PowerShell when you configure Virtual Network.
Turn key protection doesn't require any additional application changes.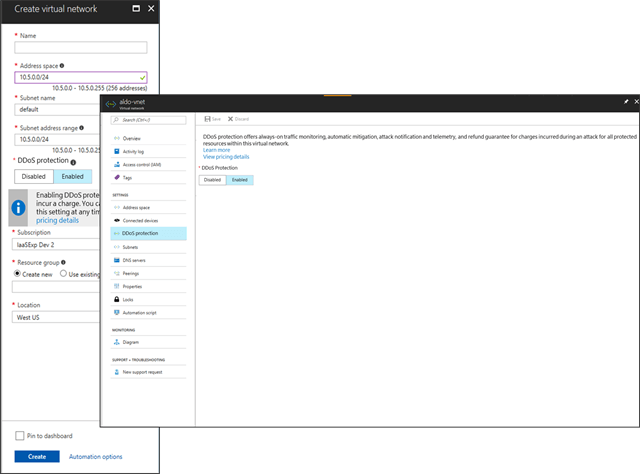 DDoS always monitors your application and indicators of attacks.
Due to the adaptive tuning, DDoS understands the configured policies connected to the Virtual Network and Machine Algorithms. Protection policies are restricted to define the overall protection limits and mitigation of the actual network traffic and the exceeded traffic.
DDoS protection telemetry with monitoring and alerts.
Better cost protection.
How to Start?
Register for the Azure DDoS Protection service here and get the complete details on  Azure DDoS Protection service documentation.